Iran's Pressure Campaign on Iranian Kurds Continues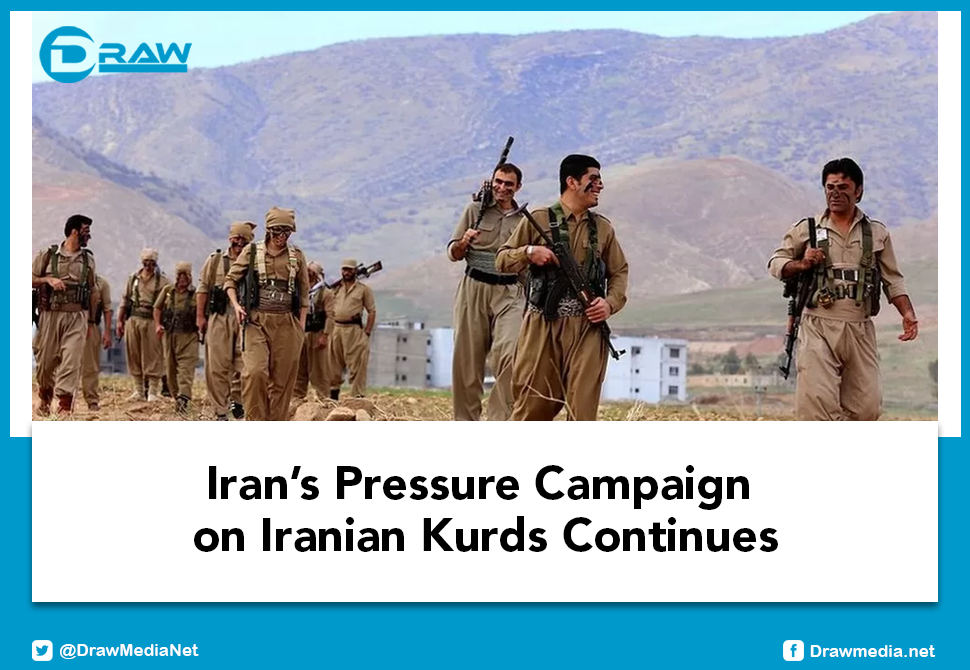 2023-09-18 11:37:38
The Washington Institute,
Wladimir van Wilgenburg
Iran has stepped up pressure on Baghdad and Erbil to disarm and relocate Iranian Kurdish opposition parties in the Kurdistan Region amidst ongoing disputes between Erbil and Baghdad over budget and oil revenues.
Most of the Iranian Kurdish parties are located in areas controlled by the Kurdistan Regional Government (KRG), apart from fighters of the Kurdistan Free Life Party (PJAK), that are in Kurdistan Workers' Party (PKK) controlled territories in the Qandil mountains, who vowed not to disarm.
The situation has become even more precarious for Iranian Kurdish parties, especially with the appointment of Iraqi Prime Minister Mohammed Shia al-Sudani's government in October 2022. Sudani's government received support from the Iran-backed Coordination Framework and is perceived as granting Iran greater room to exert its influence. Tehran is hoping to remove the Iranian Kurdish parties from Iraq, as it did with the People's Mujahideen Organization of Iran that was moved from Baghdad to Albania in 2016. While it has proven more difficult to convince the KRG to comply compared to Shia parties in Baghdad, Iran is applying significant pressure on officials in Erbil and Suleimani.
Furthermore, the position of the Kurdistan Region significantly weakened in March after Baghdad won the international arbitration case in Paris against Turkey, which stopped the export of 500,000 barrels per day through Turkey. The abrupt removal of its key form of revenue generation made Kurdistan more dependent on the budget coming out of Baghdad. The Iraqi government could also use this as a pretext to gain more control over the Kurdistan Region's border areas and weaken the Kurdistan Region's autonomy. Baghdad is already demanding oil and non-oil revenues in addition to the handover of 400,000 bpd from the KRG in exchange for sending the budget to Erbil. Therefore, the KRG is under more pressure to make concessions.
This contentious relationship between Baghdad and Erbil is not a new development, however. Even before PM Sudani's administration, Iran has carried out several ballistic missile and drone attacks on Iranian Kurdish forces in the Kurdistan Region since 2018.
The PDKI in 2016 briefly broke a ceasefire with Iran and resumed attacks, but these hostilities ceased soon after. The KRG previously instructed the Iranian Kurdish parties to not use the Kurdistan Region's territory as a staging ground for attacks on Iran, and for the most part they have abided by this request.
Targeting Iranian Kurdish Parties During Iranian Protests
The Iranian attacks and pressure on Iranian Kurdish parties intensified after massive protests erupted in Iran, following the death of Jina (Mahsa) Amini, a young Kurdish woman on September 16 of last year while in the custody of Iran's morality police. While the resulting protests were pervasive and spanned across Iran's ethnic communities, Iran has attempted to blame sectarianism and accused the Kurdish Iranian opposition parties of fomenting unrest in Iranian Kurdistan. Tehran claims that these Kurdish parties have worked with Israel to attack Iran.
Between September and October 2022, Iran carried out several attacks using ballistic missiles and suicide drones on three Iranian Kurdish opposition parties, including the Democratic Party of Iranian Kurdistan (PDKI) in Koya and the Sidekan subdistrict (Erbil governorate), Komala in Zirgwez (Sulaimani governorate) and the Kurdistan Freedom Party (PAK) in Pirde (road between Erbil-Kirkuk). According to Hengaw, at least 21 members of these parties died, including two women, a one-day-old child, and also a civilian from Koya. Moreover, Iran threatened a military incursion that October, although the threat did not materialize.
In order to assuage Iran's concerns, Iraq deployed border guards to the border with Iran in December 2022, and in March signed a border security agreement with Iran. While the attacks decreased after the Iranian protests largely died down by January this year after a huge crackdown—with at least 537 killed—Iran has continued to carry out assassinations against Iranian Kurdish opposition figures in the Kurdistan Region, including one in July against two PDKI members.
In addition, Iran and Iranian affiliated Popular Mobilization Units (PMU) have previously targeted Kurdistan's oil and gas infrastructure and the U.S. military presence. Turkish military bases in Iraq have also been targeted by PMU groups. On August 30, rockets allegedly fired from Tuz Khurmato once again targeted the Khor Mor gas field.
PMF groups are now also in close proximity to the Kurdistan Region, having benefited from the anti-ISIS war in 2014 and gaining control of disputed territories from the Peshmerga forces in October 2017, subsequent to the September 2017 referendum. Iran also played a major role in the events of October. Consequently, Kurdish provinces are within the range of PMF's katyusha rockets.

Renewed Threats and a Hard Deadline
Iran has been increasing the pressure in the weeks leading up to the anniversary of Jina Amini's death. Iran's Ministry of Foreign Affairs Nasser Kanaani on August 28 underlined that Iran's deadline issued earlier this year to disarm Iranian Kurdish parties by September 19 "will not be extended" under any circumstances. He underlined that Iran expects Baghdad to evacuate and transfer the Iranian Kurdish parties from their military bases to camps designated by the Iraqi government.
Kanaani warned that if the Iraqi government does not fulfill its commitment by the end of the set deadline, Iran will act in line "with its responsibility to guarantee its own security." Moreover, Iran has reportedly also submitted a list of Iranian Kurdish leaders to Baghdad, seeking their extradition. Most recently, Iranian President Ebrahim Raisi called Iraqi Prime Minister Sudani directly, emphasizing that any efforts from "separatist terrorist groups" to undermine regional security would not be tolerated.
PAK spokesperson Khalil Nadri also added that there will be more attacks on Iranian Kurdish parties "if the US and its allies remain silent about Iran's threats." stating that "Washington can stop Iran from taking a decisive stance" but that its current indifference was sending the wrong signals to Iran.
It seems likely that Iran will continue its drone and missile strikes so long as the KRG does not disarm or relocate Iranian Kurdish groups, especially amidst the upcoming anniversary. In addition to artillery and drone attacks, Iran could also attempt to launch cross-border assaults, similar to Turkey's offensive into KRG territory in the north. In 1996, Iran launched a cross-border offensive with 3,000 troops against the PDKI in Koya, killing at least 20 members. Following the offensive, the PDKI announced they would stop cross-border attacks.
Moreover, it will be difficult for the KRG to fully disarm the groups, although it could try to remove Iranian Kurdish armed fighters from positions at the border with Iran. Indeed, reports over the last several days suggest that this process may be beginning, although the scope of these efforts is not yet clear. These include reports that PAK forces were removed from Pirde, located between Erbil and Kirkuk.
Reportedly, Iraq has stationed an additional 6,000 troops along its borders and plans to construct new border posts, with aims to recruit 3,000 locals for border guards. Iraqi National Security Advisor Qassem al-Araji had meetings with both senior KRG and PUK officials in Iran and the Kurdistan Region to discuss the border agreement. This dialogue continues; on September 11, KRG interior minister Reber Ahmad arrived in Baghdad to discuss the situation, while PUK head Bafel Talabani travelled to Iran the preceding day for meetings likely linked to the crisis. On August 20, Araji also met with the UN envoy to Iraq, and KRG's Interior Minister to discuss the situation of refugees in the Kurdistan Region. Also on September 11, PM Masrour Barzani met with Iran's Ambassador.
Kurdish President Nechirvan Barzani on Wednesday also said that both Baghdad and Erbil have taken steps, which leaves no more "room for any pretext for an Iranian military operation." Iraqi FM Fuad Hussein also told reporters on September 13 during a visit to Iran that the groups will be disarmed in two days.
However, Kamran Matin, a senior Lecturer in International Relations at University of Sussex thinks it is unlikely that the Kurdistan Region will disarm Iranian Kurdish groups. "These groups have a long and close relationship with [the] local population so any move by KRG to disarm them will be politically costly for its ruling parties."
He added that the "US might also not condone such a move which will boost Iran's influence in Iraq and the wider region." However, he said a "change in the existing pattern of these groups' presence in KRI is possible, especially one involving UN oversight."
For their part, Iranian Kurdish opposition groups are not staying silent. In a rare move among a series of parties that do not generally coordinate their movements, on September 6, most of the Iranian Kurdish parties called for a general strike on September 16—the anniversary of Amini's death. "On the other hand, Rojhalat of Kurdistan (Iranian Kurdistan) is on the eve of the anniversary of the Jina (Mahsa Amini) Uprising. Iran wants to draw attention to the street threats of Iranian political parties," PAK spokesperson Khalil Nadri stated in an interview with the author.
He also accused Tehran of leading "a comprehensive process against all parts of Kurdistan. This is a process that began in 2017" in response to the Kurdish independence referendum.
In August, the KRG reportedly summoned officials from Komala and PDKI parties to discuss mounting pressures from Tehran, reported The Citadel. The opposition groups were open to move to new camps, but they rejected calls to surrender their arms. The PDKI has since called on both Baghdad and the international community to prevent new attacks.
When asked about the potential of relocating forces from near the Iranian border, a member of PDKI, on the condition of anonymity, said, "I don't think that is an option for us. We might relocate but not move from the border." Other officials echo the same sentiment. Arash Saleh, representative of PDKI to the United States, also told the author that "PDKI has never used Iraq's soil to initiate any military activities against Iran. We respect the sovereignty of Iraq."
Reflecting on the broader geopolitical impact of these maneuvers, Saleh proposed that "Iran's end game here is ultimately to tighten its grip on Iraq. The regime in Tehran is trying to increase its influence and leverage in Iraq and to undermine KRG status and they use any baseless pretext to further their agenda. The silence in Washington, London, and Paris about this matter can be disastrous for the West's interests in Iraq and the broader region."

پێت باشە موچەی موچەخۆرانی هەرێم راستەوخۆ لە بەغدادەوە بدرێت؟