"It is unconstitutional for party leader to force candidate to resign"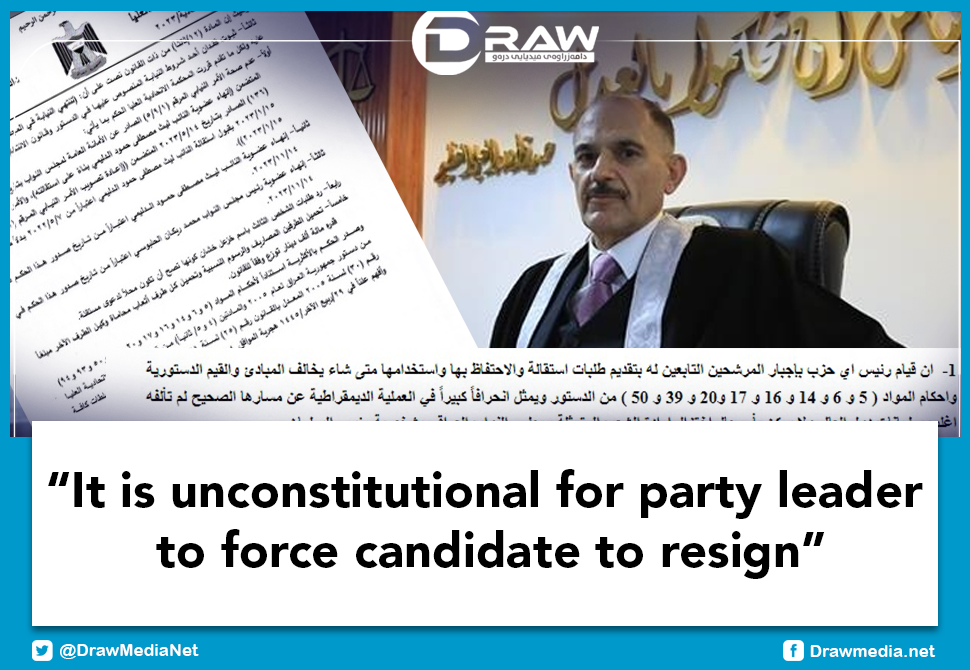 2023-11-19 17:10:42
The Supreme Federal Court, the highest judicial authority in Iraq, clarified on Sunday the justifications behind its decision to terminate the membership of the Speaker of the Parliament, Mohammed Al-Halbousi, and the constitutional articles it relied on.
The Court stated that "The principles of the Supreme Federal Court in Case No. 9/Federal/2023 (Termination of Al-Halbousi's Membership) are as follows: Any party leader compelling their affiliated candidates to submit resignation requests and retaining them for future use violates constitutional principles, values, and provisions of Articles (5, 6, 14, 16, 17, 20, 39, 50) of the Constitution. This represents a significant deviation in the democratic process, not recognized by the majority of parliaments worldwide. It cannot in any way negate the will of the people, represented by the Iraqi Parliament, through the parliamentary speaker."
The Court continued, affirming its authority to terminate the membership of a parliamentarian whose term has legally expired based on evidence of violating constitutional and legal obligations, citing provisions of the Constitution, particularly the Parliament Law and its formations. The Court holds absolute discretionary power to assess such cases based on facts, evidence, and investigations conducted by it.
It further highlighted that its competence lies in ruling on appeals regarding the legitimacy of a member's membership and the verdict to end it, not as a result but as a consequence of its jurisdiction to terminate the membership according to Article 12 of the Parliament Law and its formations No. 13 for the year 2018. This becomes a consequence of the proven termination of membership by law, affirming that the defendant, the Speaker of the Parliament, utilized resignation requests submitted by the plaintiff after tampering and altering them, necessitating the termination of his membership.
The Court affirmed that relying on Article 52 of the Constitution is impossible when a parliamentarian is proven to have committed constitutional and legal violations, especially the breach of oath referred to in Article 50 of the Constitution. This precludes the continuation of their membership in the council, necessitating the ruling to end their membership.
It is noteworthy that the Supreme Federal Court had issued a decision on Tuesday, November 14th, to terminate the membership of the Speaker of the Parliament, Mohammed Al-Halbousi, based on a lawsuit alleging "forgery" filed by MP Laith Delaimi.
Following the Court's decision, Al-Halbousi stated during a session of the Parliament that "there are those seeking to fragment the political components of society."