Three Iraqi government ministers resign over house speaker's ouster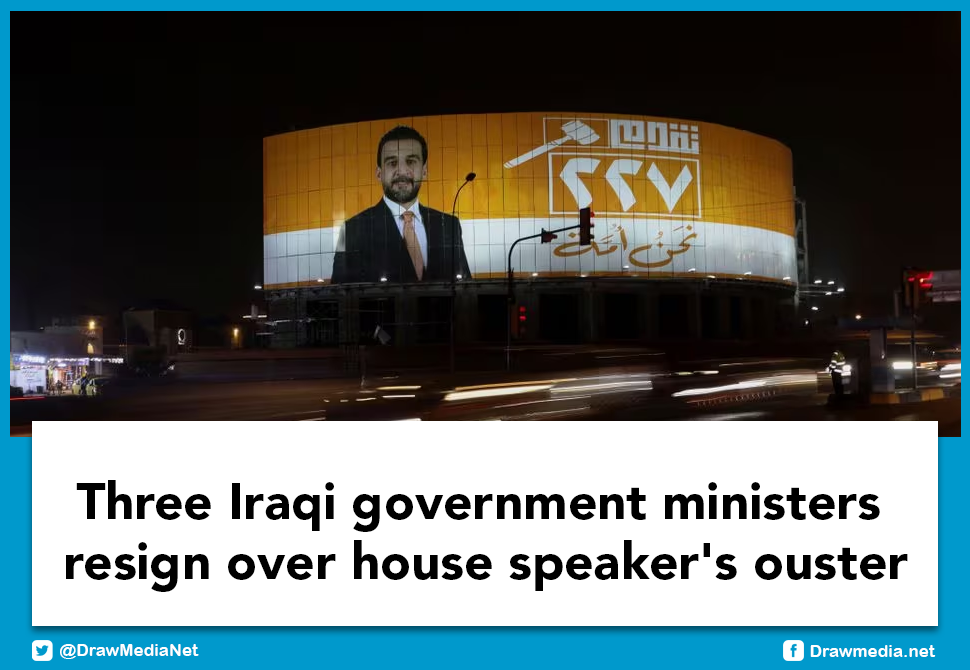 2023-11-15 05:40:42
The Iraqi Federal Supreme Court ended the term of parliament speaker Mohammed al-Halbusi on Tuesday, a move that caused several allies of his to resign from the government.
The court said it "terminated" the membership of Halbusi as well as parliament member Laith Al-Dulaimi, the official Iraqi News Agency reported. The outlet did not provide further details.
Reuters reported that the decision related to an unspecified case brought against Halbusi earlier this year. The Associated Press reported that Dulaimi had filed a lawsuit against Halbusi claiming the speaker forged Dulaimi's signature on a resignation letter.
The speaker of the parliament must be a Sunni Muslim in Iraq's sectarian power-sharing system of governance. Halbusi and Dulaimi are both Sunni.
Halbousi's Progress Party slammed the decision as "blatantly unconstitutional" in a statement later on Tuesday, and announced the resignation of three of its ministers from the government: Deputy Prime Minister and Minister of Planning Muhammad Ali Tamim, Industry Minister Khaled Battal Al Najm, and Culture Minister Ahmed Fakkak Al-Badrani. The party added that its lawmakers would boycott parliamentary sessions.
Why it matters: Halbusi, is the most prominent Sunni politician in Iraq. He was first elected to his position in 2018, becoming the youngest speaker in Iraqi history at only 37 years old. He was reelected to a second term early last year. He previously served as governor of western Anbar province. Halbusi was seen as close to both the United States and Iran when he was elected.
A former businessman, he has been credited with facilitating economic growth in Anbar. In an exclusive interview with Al-Monitor in May, Halbusi said young Iraqis are tired of regional conflicts, and he called for greater ties between Iraq and Arab states.
The speaker has faced political trouble recently. Halbusi and his Progress Party have been accused of various forms of corruption, leading to growing opposition to him in Anbar, journalist Simona Foltyn wrote for the London School of Economics in June.
Tensions have been simmering between Halbusi and the ruling Coordination Framework. The framework is an umbrella group of Shiite political parties that nominated Prime Minister Mohammed Shia al-Sudani last year. It includes former Prime Minister Nouri al-Maliki's State of Law Coalition, as well as the pro-Iran Fatah Alliance, among others.
Halbusi had originally tried to form a government with the Kurdistan Democratic Party (KDP) and Shiite cleric Muqtada al-Sadr. The latter is a rival of the Coordination Framework, and Halbusi's efforts angered parties within the group. Halbusi's Progress Party and the KDP ultimately joined the Coordination Framework in the current government.
The tensions between Halbusi and other Iraqi factions are not new. Shortly after his reelection in January 2022, Halbusi's home was targeted by rockets. The speaker has been repeatedly threatened by Iran-backed groups in Iraq, Al-Monitor reported at the time.
What's next: Two parliamentary officials told the AP that the court decision cannot be appealed and the parliament will need to elect a new speaker. First Deputy Speaker Mohsen Al-Mandalawi will lead the parliament in the interim, they said.