As Turkey intensifies war on Kurdish militants in Iraq, civilians are suffering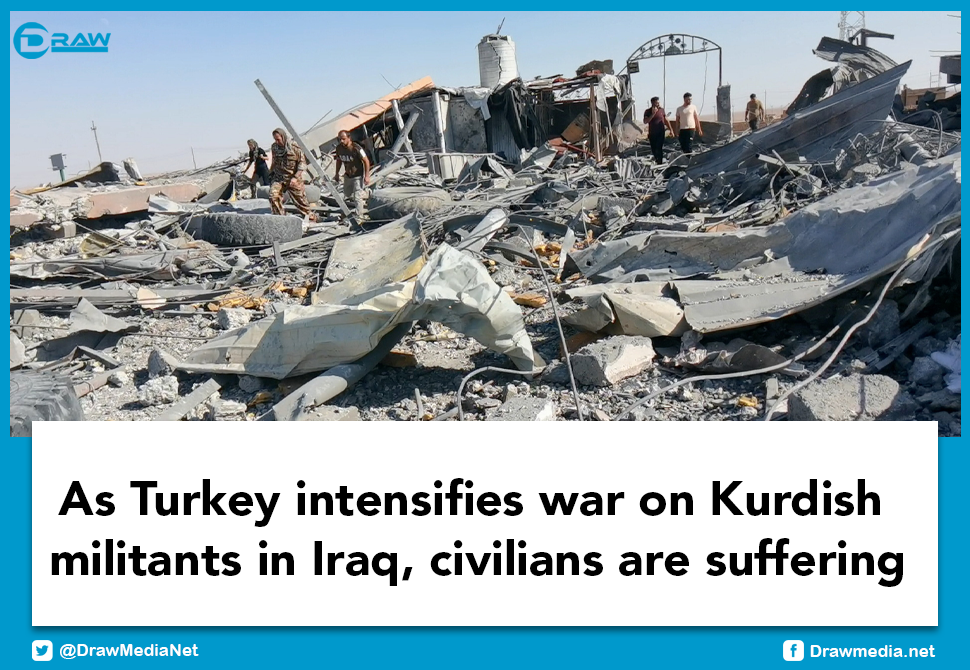 2023-11-08 20:07:55
Seventeen-year-old Samir Saado was finishing his cleaning shift at the village medical centre when an airstrike hit the building.
"I didn't see anything other than dust and smoke," said Saado, a member of Iraq's minority Yazidi community. "My leg was stuck under the rubble. I called for help and people were coming but the planes kept striking."
At least four civilians were killed that day, Aug. 17, 2021, local officials said. Among the dead was Saado's father, who worked as a cook at the centre in Iraq's northern Sinjar province, about 100 km (62 miles) from the Turkish border. Saado suffered a broken pelvis and a cracked skull.
The strike was part of escalating attacks by Turkish aircraft and drones in mainly Kurdish areas of Iraq and Syria, which have since continued, a Reuters data analysis shows. Western firms have supplied critical components for the drones, which Kurdish and Iraqi officials say Turkey is deploying with increasing frequency.
Airstrikes have surged since Turkey launched "Operation Claw-Lock" in April last year. The aim, the Turkish Defence Ministry says, is to protect Turkey's borders and "neutralise terrorism and terrorists at source." Earlier this month , Turkey unleashed air strikes on militant targets in northern Iraq and Syria after the Kurdistan Workers' Party (PKK) said it was behind a bomb attack near government buildings in Ankara, in which two police officers were injured.
Northern Iraq is the base of the PKK, which over decades has carried out many deadly attacks in Turkey and is labelled a terrorist organisation by the United States and European Union.
Turkish operations in Syria target the Kurdish People's Protection Units (YPG), a militia that Ankara says is a PKK-affiliated terrorist group. The YPG is part of the Syrian Democratic Forces, a U.S. ally against Islamic State.
Turkey's Defence Ministry said in a statement to Reuters that all of its operations fall "within the framework of international law, respecting the territorial integrity and sovereignty of all our neighbours."
"In the planning and execution of the operations, only terrorists and their positions, warehouses and shelters are targeted, and the utmost care and sensitivity is shown to prevent harm to civilians and to prevent damage to infrastructure and cultural sites."
Any claims to the contrary "are unfounded, slanderous, and lies," the statement said.
Reuters could not reach the PKK. The Syrian Democratic Forces said Turkish strikes in Syria are unjustified. A YPG spokesperson said its forces "did not fire a single shot in the direction of the Turkish state."
Reuters analysed violent incidents recorded by the Armed Conflict Location & Event Data Project (ACLED), a global research organisation that collects reports from media outlets, government reports, non-governmental groups and other sources. This analysis shows that in 2022, Turkey carried out at least 2,044 airstrikes in mostly Kurdish areas of Iraq and Syria, a 53% increase on the previous year and the highest number since ACLED began documenting strikes across the two countries in 2017. The figure is likely a conservative estimate because Reuters' analysis excluded airstrikes that may have been conducted in battle.
ACLED draws information about airstrikes in northern Iraq and Syria from sources including the PKK's military wing, the Turkish state-owned news agency Anadolu and conflict monitors the Syrian Observatory for Human Rights, Airwars and Liveuamap....continue reading.